PCB footprint generator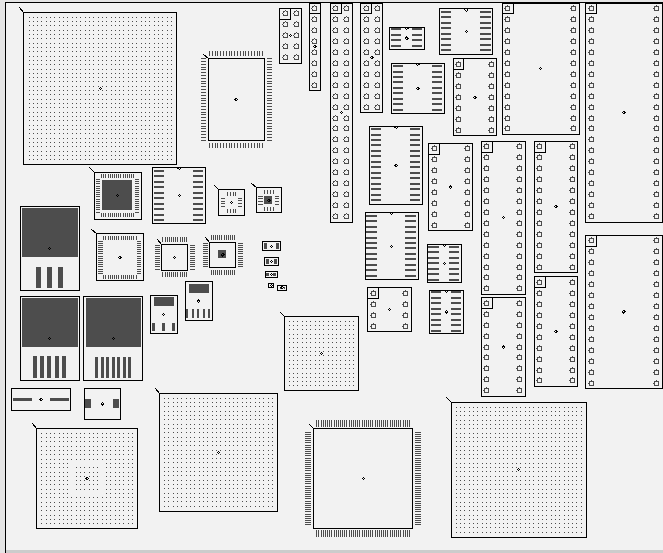 PCB footprint generator is a program written in Python to generate footprints for PCB. Parameters are supplied in an input file and PCB newlib elements are created.

Download:
Definition of some parameters: (PDF) (OpenOffice Writer) Submitted by David Carr - Thanks
Parameter drawing:(PDF) (gSchem)
Tarball of script and sample input file (updated 20121004)
To generate footprints:
---

$ tar -zxf footgen.tar.gz
$ cd footgen
$ ./footgen.py footprintdata

---

The following is a sample input file which generates some BGA footprints, Notice how the part statement follows the data defining the part. When the part statement is issued, the footprint is generated using the last defined parameters. This allows definition of a family of parts without repeating the portions which are the same. The script is released under the GPL, but the footprint definition files and output are public domain.
---

# Xilinx BGA packages
# data from XAPP157
# Entered by Darrell Harmon
# values for all 1mm pitch Xilinx BGA
        type = "bga"
        pitch = 1mm
        silkwidth = 10 mils
        silkoffset = 1mm                # used if silkbox is invalid
        dia = 0.4mm
        maskclear = 0.1mm
        polyclear = 6 mil
# Xilinx FT256 1mm pitch BGA
        silkboxwidth = 17mm
        silkboxheight = 17mm
        rows = 16
        cols = 16
part "FT256"
        rows = 22
        cols = 22
	# some balls missing on FG456
        omitballs = "H8:R8,H8:H15,R8:R15,H15:R15"
part "FG456"
        rows = 26
        cols = 26
        omitballs = ""
part "FG676"
        rows = 30
        cols = 30
part "FG900"
        rows = 34
        cols = 34
part "FG1156"

---
On all dimension parameters units should be included and unit conversion will automatically be performed. If no units are given, units of nanometers will be assumed.


# Comments begin with "#"

Required parameters for all types:
maskclear = X # soldermask clearance to copper feature
polyclear = X # polygon clearance to copper feature
type = "bga" or "qfp" or "so" or "twopad" or "tabbed" or "dip" or "sip"
silkwidth

Parameters for BGA:
rows
cols
pitch
dia (ball diameter)
omitballs
silkboxheight and silkbox width (height and width of silkscreen box)
or:
silkoffset (distance from silkscreen box to outside balls

Parameters for QFP:
pins
width
height
pitch
padheight
padwidth
silkoffset (distance from silkscreen outline to pads)
silkstyle = "inside" or "outside" or "none"

Parameters for SO:
pins
pitch
width
padheight
padwidth
silkoffset

Parameters for twopad:
width (space between pads)
padheight
padwidth
silkoffset

Parameters for DIP:
pins
width (space between 2 rows of pins)
pitch (typically 0.1 in)
paddia (ring around hole)
drill (hole size)

Parameters for SIP:
pins
pitch (typically 0.1 in)
paddia (ring around hole)
drill (hole size)